THE MAGNIFICENT SEVEN (2016)
Columbia Pictures Industries Inc.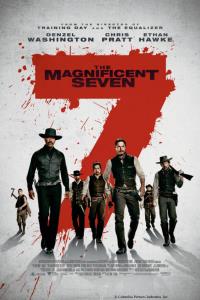 Rating
PG-13
Runtime
128 min
Release Year
2016
Synopsis
In this remake of the classic 1960 oater of the same name (itself a Western remake of Akira Kurosawa's masterpiece, The Seven Samurai), seven gunslingers join forces in order to protect a small town from a mining tycoon (Peter Sarsgaard) and his goons, who plan to seize the residents' land by force. The seven-man army is led by a mysterious bounty hunter (Denzel Washington), and also includes a sharp-witted gambler (Chris Pratt), a troubled ex-Civil War soldier (Ethan Hawke), a mountain man (Vincent D'Onofrio), an expert knife thrower (Byung-hun Lee), an outlaw (Manuel Garcia-Rulfo), and a Comanche warrior (Martin Sensmeier). Directed by Antoine Fuqua (Training Day). Author: Jack Rodgers
Cast
Denzel Washington
Matt Bomer
Chris Pratt
Vincent D'Onofrio
Ethan Hawke
Cam Gigandet
Promotional Materials
To save materials to your computer:
Windows
Internet Explorer: Right-click on the link and choose "Save Target As"
Firefox and Chrome: Right-click on the link and choose "Save link as..."
Mac:
Hold down the option key and click on the link and choose "Save Image As"
Trailer